Selling a Home in the Orlando Area?
Are you selling a home in the Orlando area? On average American homeowners sell a home every five to seven years. With homeowners only facing a move every five years or so, it's understandable why some are not comfortable with the home selling process. Our team will simplify the home selling process by helping you price your house to sell on your schedule—and for the highest possible price. In addition, we will help you prepare your home for sale, provide world-class marketing, stage and prepare for buyer showings, negotiate purchase offers and contracts, and help you plan your move to your new home.
On this page, we will discuss each step in the Home Selling Process in detail. But first, let's have a look at the main points in the process before we dig into the details. Feel free to jump to the section that is most important to you.
The Home Selling Process
Market Analysis
Pricing
Strategy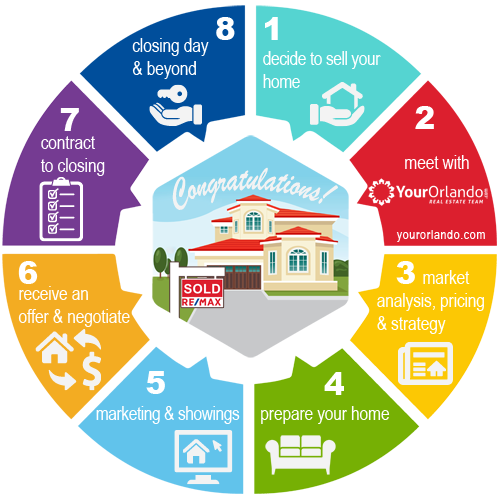 The Home Selling Process
Selling a home and moving to a new one can be a rewarding experience if done properly or quite stressful if you are not prepared. By knowing what to do and preparing in advance, you can make your real estate dreams a reality while avoiding the possible pitfalls along the way. Here are some important steps to consider when selling a home or property.
Choosing the Right Real Estate Agent
When choosing a real estate agent to list your home, you should consider interviewing two or three real estate agents from different brokerages. Before you interview the different agents, it's a good practice to prepare a list of questions that are important to you. Doing so will allow you to better gauge who is more capable of meeting your home selling needs. Choose your agent wisely, and above all, choose an agent that you feel comfortable with. Your agent will help you sell one of the most valuable assets of your life, so find someone you think will do a good job!
Questions you should ask when interviewing prospective real estate agents/brokers
What should I do to prepare my home for sale?
Since 92% of home buyers search online for their new home, how will you leverage the internet to sell my home?
How many years have you been in business, FULL TIME?
Are you a professionally trained negotiator?
What is the current market situation and how will it affect the sale of my home?
What is your average days on market from list date to purchase contract?
What was the average ratio between the listing price and the final selling price?
How will you keep me informed throughout the sale of my home?
What do you charge (commission)?
Do you charge any upfront fees?
If I were to work with you, how would you market my home?
How can you protect me from getting stuck in a contract with a buyer who is not properly qualified?
If a problem comes up during the buyer's home inspections, how will you handle it?
If the buyer's appraisal comes in low, how will you handle it?
Can you give me the names and telephone numbers of other families who have used your services?
The days of using newspaper ads and real estate magazines to sell your home is over. Nowadays homebuyers overwhelmingly chose the internet to find their new home. In fact, 92% of homebuyers now turn to the internet to locate suitable properties, according to the National Association of Realtors (NAR).


—National Association of Realtors (NAR)
Meet With Your Listing Agent
After selecting your listing agent, your agent will meet with you to make final preparations for your home's first day on the market. During this meeting, you will cover three main points:
Market Analysis
The market analysis is where we will take an in-depth look at the market data, paying close attention to the most current statistics, and the new competing properties that have come to market.
Pricing
Now that you have your real estate agent picked out, setting the correct listing price for your home will make all the difference. Price your house too high and you will scare away potential buyers—if you price it too low you will lose money. Properly pricing your home for sale is complex. Your agent will prepare a FREE Comparative Market Analysis (CMA) and provide you with all the information necessary for you to make an informed pricing decision. Here is some that should be considered:
Consider whether current, national, state, city, local, and neighborhood market conditions favor the buyer or seller.
Consider that buyers will seek out the very best value. Your home must offer equal or greater value than the competing properties on the market or it will not sell.
Compare your home against similar properties that have recently sold in your neighborhood.
Calculate the price per square foot using comparable sales. Take the sale price of each home and divide it by its square feet of living space. This will give you the Price Per Sq Ft.
Make adjustments for the differences. Adjustments should not be made for minor items like carpet, paint, and other maintenance items. Normally adjustments are made for pools, additional rooms, bathrooms, garage spaces, bonus rooms, etc.
Strategy
Based on the market analysis and pricing established above, you and your agent will agree to the final points necessary to reach your selling goals and desired sale date.
Preparing Your Home for Sale
When preparing your home for sale, you should look at your home from the potential buyer's perspective. When the buyer drives into your driveway, what will they see? When they walk up to the front door, what will they see there? When they walk into the house, what will they see there and beyond? You should consider each step that prospective buyers may take as they view your home. How does your home compare to the other homes they will see?
Create "Curb Appeal" – Front Entrance & Lawn
Declutter the Home – Create Spacious Feel
Depersonalize the Home
Professionally Clean the Home
Remove Odors – Make Home Smell Great
Bring In Natural Sunlight
Open or Remove Window Treatments
Repaint Dark Rooms
Show Rooms Proper Function
Consider Professional Staging Read More…
Marketing Your Home
Now that you have hired your listing agent, decided on a listing price, and prepared your home for sale, it's time to actually put your home on the market. Our marketing plan is too complex to list every point, so here is an overview.
Agree to a List Date (Go Live Date) with your agent
Take a Final Look at the Market, Competition, and Pricing. Adjust accordingly
Final Pre-Listing Inspection
Final Staging Preparations
Confirm Showing Arrangements
MLS Entry
Listing Data Syndication and Redistribution

REMAX.com
REALTOR.com
etc…

Video / Virtual Tour Setup
Send Out Just Listed Information – eMarketing
Send Out Just Listed Information – Regular Mail
Online Marketing, Promotion and SEO
Arrange Showings
Follow Up on Showings to Solicit Purchase Offers
Recommend Adjustments as Needed
Communicate Adjustments to the Market Read More…

Showing Your Home to Buyers
General Safety Rules
Now that you are ready to show your home to buyers, let's go over a few tips that will help keep you safe.
NEVER ALLOW AN UNSCHEDULED VISITOR INTO YOUR HOME: We will never authorize an unscheduled visits to your home. If someone shows up unannounced or unplanned, DO NOT OPEN THE DOOR. Turn them away.
SECURE YOUR VALUABLES: Even with licensed real estate agents escorting qualified buyers through your home, there is no need to tempt anyone. Put away your jewelry and other valuables. While you are at it, you should also secure medication, important documents and other items of importance.
CONTACT YOUR LOCAL POLICE OR SHERIFF'S DEPARTMENT: You should contact your local police or sheriff's department and ask them for their current safety tips & advice. They are your safety professionals. When in doubt, heed their advice.
General Showing Guidelines
With your safety in mind, let's show your home in a way that will make prospective buyers fall in love with it.
LEAVE THE BUYERS ALONE: It is always best if you are not there when a prospective buyer is viewing your home. The buyers need to feel comfortable viewing your home. If you are there they will feel as they are imposing on you. If you are there when they arrive, they will try to get out of your way as soon as possible. This is not what you want when you're trying to sell your home. Let's give the buyers the space they need to fall in love with your home.
KEEP YOUR HOME CLEAN & UNCLUTTERED: Nobody wants to buy a small house. Even the largest of homes can seem small if they are filled with clutter. Remember to keep spaces clean and clutter free. Clean, clean and clean. It makes a big difference.
Quick Checklist for Showing Your Home
Think Your Safety First — See tips above
Think Buyer Safety — Remove tripping hazards, dogs, etc.
Make the Most of that First Impression
Check Lights, Faucets, and Doors
Keep Home Clutter Free
Keep Home Clean — Make it sparkle
Make All Rooms Accessible
Turn All Lights On
Open the Blinds & Shades. Let the sunshine in
Avoid Crowd Scenes — Leave the buyers alone
Turn The Music Down — If you have background music playing, keep it low and soothing Read More…
While you're waiting for the buyers to show, you should begin planning for your move.
Negotiating Offers
There's a lot to consider before signing a purchase contract with a prospective buyer. Even if the purchase price is more than satisfactory, if the terms and conditions of the agreement are questionable, you might want to think twice before you sign.
Consider the following points when negotiating offers:
How close is the offer to the asking price?
Will your home appraise at the asking price?
Has the buyer asked for assistance with closing costs?
Is the offer an as-is offer, or has the buyer asked you to make repairs or give a credit for improvements?
What will be your net proceeds on the sale?
Is the requested settlement date appropriate for your needs?
How large is the earnest money deposit?
What are the contingency periods?
Should you accept the offer or not: Are there other offers?
Can you wait for more offers to come in?
How will you handle it if no other offers come in?
Knowing Your Home Selling Costs & Proceeds
Knowing your closing cost and proceeds will help you make better decisions. You can use our Closing Costs & Proceeds estimation tool to help you estimate your costs and proceeds.
Getting Through the Home Inspection and Repairs
Now that you and the buyer have agreed to price and terms, and have signed the home purchase contract, in most cases, the buyer's inspections will quickly follow.
Should you be worried about what the inspector might find? The answer depends on the condition of your home, what the buyer's expectations are, and what you disclosed in your disclosure package. Keeping in mind that disclosure laws and customary real estate practices, here are some suggestions that can help you get through the home inspection process more smoothly:
When in doubt, disclose it. It is always better to disclose all the problems with your house than not enough. If you fail to disclose a latent defect (hidden problem) or other problems with your house there could be legal consequences. Every home has problems, so disclose them. Doing so will ensure that there are no surprises during the inspections and your contract will not fall apart during the inspections.
Leave the home during the inspections. For several reasons, it's better for you to be absent during the buyer's home inspection. The inspector needs the freedom to do the inspection without interference. If you are there, it may be viewed by the buyer that you are trying to persuade the inspector to give a more favorable report. Your agent should be familiar with the home inspection process and be able to act as your representative. In fact, many listing agents prefer that the seller not be at home during the buyer's home inspection. Read More…
Clearing the Appraisal
When you sell a home, normally your buyer will take out a mortgage to pay for the property. Essentially, this means that a lending institution will be lending the buyer the funds necessary to purchase your home.
For the protection of the lender's collateral, the lender will require that the house be appraised to ensure the property is worth the proposed purchase price, and to make the lender aware of any major problems with the property.
Sellers should prepare themselves for the appraisal when selling their homes. There will be various professionals evaluating the price of the home at each point of the sale. Not least of which is the appraiser. Overpricing your home can cause various problems including a short appraisal, or for the house not to sell at all.
Keep in mind, the appraisal is just an opinion of value. However, as the appraiser, their value carries a lot of authority. Be on the alert for appraisal contingencies in the purchase offer. In most purchase offers, the appraiser's value is important and meaningful but normally does not require that the property be sold at the appraised value.
Clearing Contingencies
Along with the inspections and appraisal, there will likely be several other contingencies that need to be cleared prior to the closing of escrow.
Some of the additional contingencies may be as follows:
Mortgage contingencies, primarily the appraisal contingency discussed above
Clearing open permits
Clearing liens
Buyer's need to sell existing home before purchase
Anything else that was agreed upon in the purchase contract
Make sure you are watching the timelines in your purchase contract closely. If you fail to meet a contingency defined in the contract, you could be in default. You should consult legal representation if you have concerns about your contractual obligations.
Closing and Finalizing the Sale
CLOSING—the big day is here! So you have cleared the inspections and other contingencies. And you're off to the closing to get that nice big check. Don't forget to bring your driver's license, passport, or other government-issued identification. You will need to verify who you are to the closing agent.
Prior to closing, you should receive a Closing Disclosure which will provide you with what your costs and proceeds are expected to be on closing day. Once you have approved the Closing Disclosure, your final numbers at closing should match up on the final Settlement Statement.
While at your closing, the title agent will go over and have you sign the Settlement Statement, Deed transfer, and other closing documents.
Once all the documents are approved and signed by all parties, the closing can be funded for disbursement. You will have the option to receive a check at closing or to have your funds wired directly into your account. Please make your choice known to your listing agent so they can help you make arrangements.
Once you receive your funds, the sale of your home is finalized. Congratulations!
Selling A Home? Ask us:
How We Will Sell Your Home On Your Schedule
So, you have decided to sell your home. Now the questions start to flood your mind. Don't feel alone. Most people who decide to move face many of the same questions and fears. One of the biggest fears we hear from home sellers is, "How do I know when my house will sell? I see some houses sell quickly, but I see others sit on the market for a long time. With selling times varying so greatly, how can I make plans to move?" Believe it or not, it's pretty simple. And you as the seller have a lot of control. We will show you how to sell your home on your schedule – and for top dollar.
If you are ready to start the home selling process now, or you have a question about selling your home, you can contact us now. We are here for you.
How We Position Homes To Sell For More Money
It might sound crazy, but do you realize that many real estate agents don't have a formalized marketing plan for selling your home? Rest assured, we have a Home Selling Marketing Plan. If you have questions about our Home-Selling Marketing Plan, or you want to learn more about the Home Selling Process, please feel free to contact us right now. We are here and ready to take your call.
Our Team's Commitment to Excellence
When considering the sale of your most precious asset, your home, you want to ensure that you are working with the very best agent in the market. We at the RE/MAX, YourOrlando.com Team pride ourselves on staying on the cutting edge of what it takes to sell your home at the best possible price and terms.
The YourOrlando.com Team at RE/MAX meets the high standards of our elite affiliations with RE/MAX International, The National Association of Realtors, The Real Estate Buyer's Council, Broker Price Opinion Resource, Certified Distress Property Experts, The Council of Residential Specialist, The Realtor Institute, Seller Representative Specialist, and more. As top RE/MAX Agents and Certified Residential Listing Specialists (CRS), you won't find better representation.